Barack Obama's watches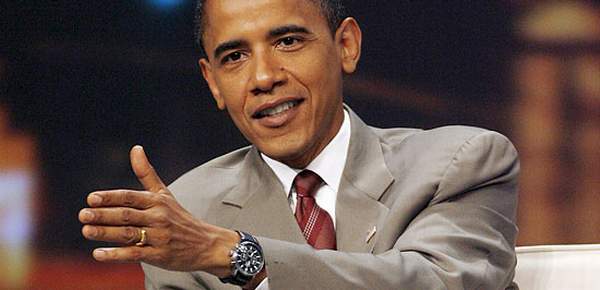 Most people are less interested in Barack Obama's selection of watches than in his political believes and moves. But for us enthusiasts, who watch movies to see the various selection of watches that Hollywood stars and celebrities wear, it is very exciting to explore the President-elect's watches selection.
During the 2008 US Election campaign and after winning the Election, Barack Obama, now the President-elect of the United States, was the most photographed person in the U.S. It was a chance for watch enthusiasts to study, explore and try to give an answer to a simple question: Which watch does Barack Obama wear?
When it comes to men's fashion in the world of politics, Obama has his own style. He's always in a dark, two-button suit and a white dress shirt. Many fashion experts will tell you that the only jewellery a man should wear is a watch. So does the new president. As far as we know, Barack Obama has two watches in his collection. Probably, even more, but for now he's been seen with TAG Heuer and US Secret Service watch. As many people noticed, his watches are not the usual plastic inexpensive quartz watches, but large, stylish and sporty.
Barack Obama's TAG Heuer 1500
As we can see Barack Obama is a fan of TAG Heuer, Swiss watchmaker known for its sports watches and chronographs. On his campaign trials, Obama seems to have worn his TAG Heuer every day whether he's chatting at the diner, signing autographs or addressing the crowd.
TAG Heuer Series 1500 Two-Tone Divers watch with leather strap is a watch he's been wearing for most of the time. Actually, he wore it for more than 15 years. TAG-Heuer introduced the Series 1500 watches in 1991, after the Series 1000 watches had been discontinued. The TAG Heuer 1500 was said to be the most functional piece of diving equipment and featured a 200m water resistance, double safety clasp on the buckle, screw down crown, unidirectional turning bezel, and luminous hands. In the mid-90s, at the time Obama most likely purchased Tag Heuer 1500, it was one of the cheaper luxury watches available on the market and it cost about $1900. Inflation and economy-adjusted, the watch costs about $1200 in 2008 dollars.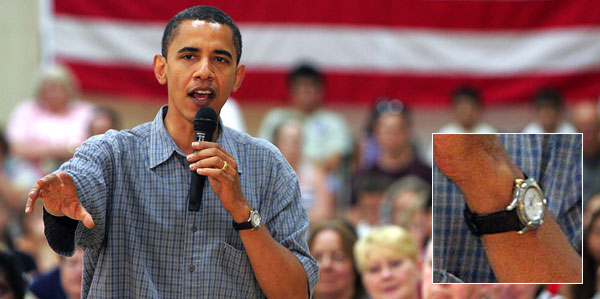 Barack Obama giving a speech while wearing TAG Heuer 1500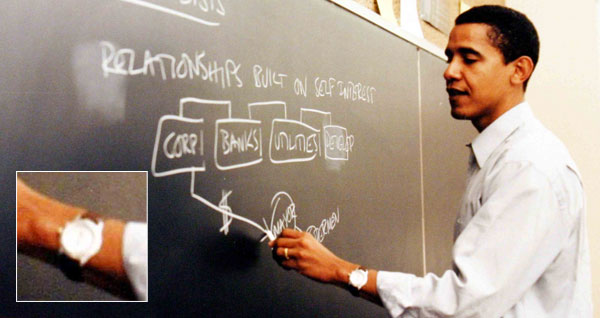 Barack Obama wearing TAG Heuer 1500 while teaching

Barack Obama giving a speech while wearing TAG Heuer 1500
Jorg Gray JGC6500, Barack Obama's US Secret Service watch
Lately, he's been seen wearing a US Secret Service watch. It's a watch he received as a gift from the Secret Service agents who had been responsible for protecting him during his Presidential campaign. The watch is Jorg Gray JGC6500 Chronograph Style and it is an inexpensive, but nice looking watch from the secret service store, branded with the secret service logo. The watch is water resistant to 100 meters and it features high precision chronograph movement. The case is in stainless steel with polished and brushed silver finish and with the Italian buffalo leather strap. Jorg Gray JGC6500 costs about $500.


Barack Obama wearing Jorg Gray JGC6500, US Secret Service watch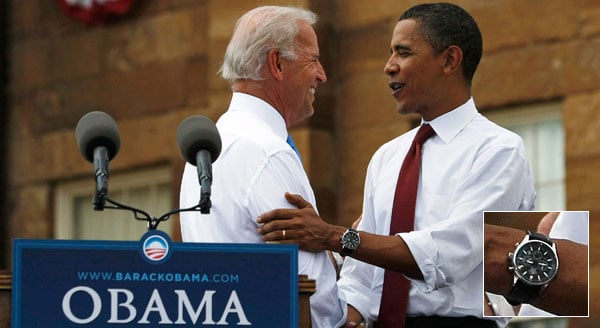 Barack Obama wearing Jorg Gray JGC6500, US Secret Service watch


Barack Obama wearing Jorg Gray JGC6500, US Secret Service watch